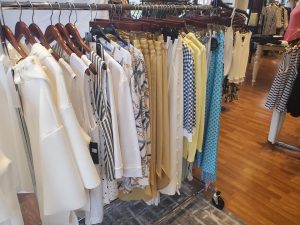 Celia's Boutique is a mother-daughter upscale boutique in business since 2003. Celia's Boutique is the women's ready-to-wear boutique located in the magnificent downtown district of New Bedford, Massachusetts.
Celia's Boutique offers unique items from Frank Lyman Design, a world-renowned fashion designer as well as Spartina, Kinross Cashmere, Elliott Lauren, Esqualo, Kozan, Isle Apparel and much more.
Also discover a wide range of fashion accessories such as handbags, jewelry, hats, scarves and shoes, combined with the exceptional service of our experienced team. You will find at Celia's Boutique absolutely everything for your style in sizes for all women.
Celia's Boutique offers the latest trends in women's fashion and accessories. An outstanding high quality selection of the acclaimed Canadian fashion designers brands: Frank Lyman, Picadilly, ES Sports,Esquala, as well as fashion manufactured in the USA: Clara Sun Woo, Kozan, Isle Apparel, Sno Skins, Sailor Sailor and more.
At Celia's Boutique you will shop with the convenience of fast and free shipping (free shipping with purchase over $75.00 only) secure payments and the protection of buying directly from an authorized reseller. We sell and ship internationally.
We value the relationship we create with our customers and always strive to provide a fun an enjoyable shopping experience.